Swipe to the right
February 2019
Keep Your Oil Where it Belongs
The BBK Universal Oil Separator is CNC machined from solid billet aluminum. The oil collection tank features a knurled base for easy removal to drain the captured oil and an O-ring seal to prevent leaks. A high efficiency, multi-stage filter system is used to collect the very fine oil vapor droplets and deposit them into the easily removable bottom. This ensures only clean, oil-free air is able to pass through into the intake.
Easy Installation
This oil separator kit can be installed in minutes with minor fitting for your application. The kit includes easy to follow instructions and PCV hoses and connectors for a simple installation on your engine.
How Does it Work?
A BBK Oil Separator Kit is a must-have for your engine because during the process of venting crankcase pressure through your PCV valve into the intake, oil vapor can collect and coat the inside of your intake manifold. That oil vapor eventually ends up coating your intake valves and burning in your combustion chamber creating carbon buildup. Excess oil in the combustion chamber can even dilute your gas, lowering its octane level. This happens on all engines but is a very common issue with modern high compression, high RPM engines.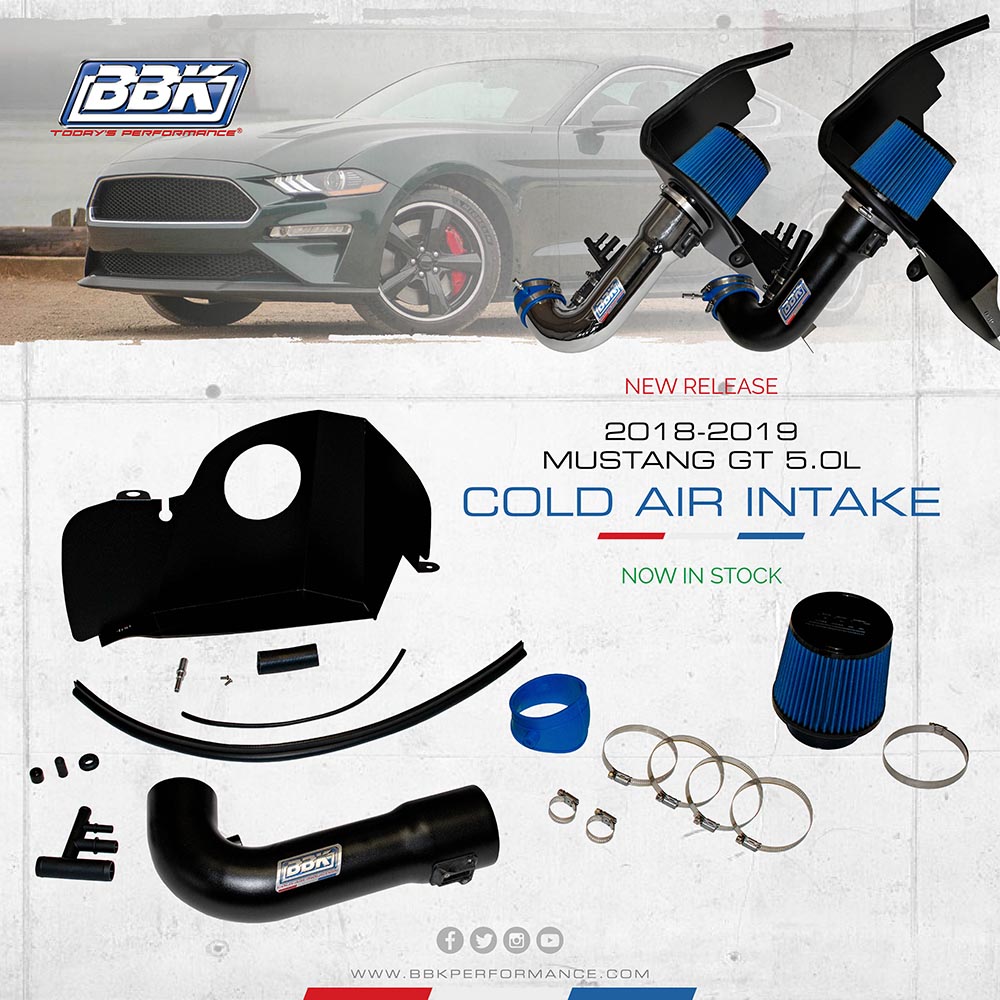 Increase your 2018-2019 Mustang GT's performance with this BBK Performance chrome or black out cold air intake. One of today's favorite performance bolt-ons, BBK cold air intake kits to deliver great looks as well as real world horsepower gains. These cold air intake systems utilize a high flow washable conical cotton element filter. The 2018-2019 Mustang GT has proven to be an amazing performer right off the showroom floor but, like all Mustangs, delivers even better results when you improve airflow to the engine.
Works with Factory Tune
BBK cold air intakes will increase your S550 Mustang's horsepower and torque while improving your throttle response and fuel economy. This cold air intake is designed to work with the factory computer tune.
Top Quality Materials
BBK Performance cold air intake kits are designed with mandrel bent tubing that is chrome plated for maximum performance and great looks. BBK cold air intakes include durable stainless steel clamps and silicone couplers for a long service life. The high flow oiled filter is designed to last a lifetime. All you need to do is clean it when it gets dirty, which can be easily accomplished in minutes with our filter recharge kit (sold separately).