Swipe to the right
Posts tagged 'new release'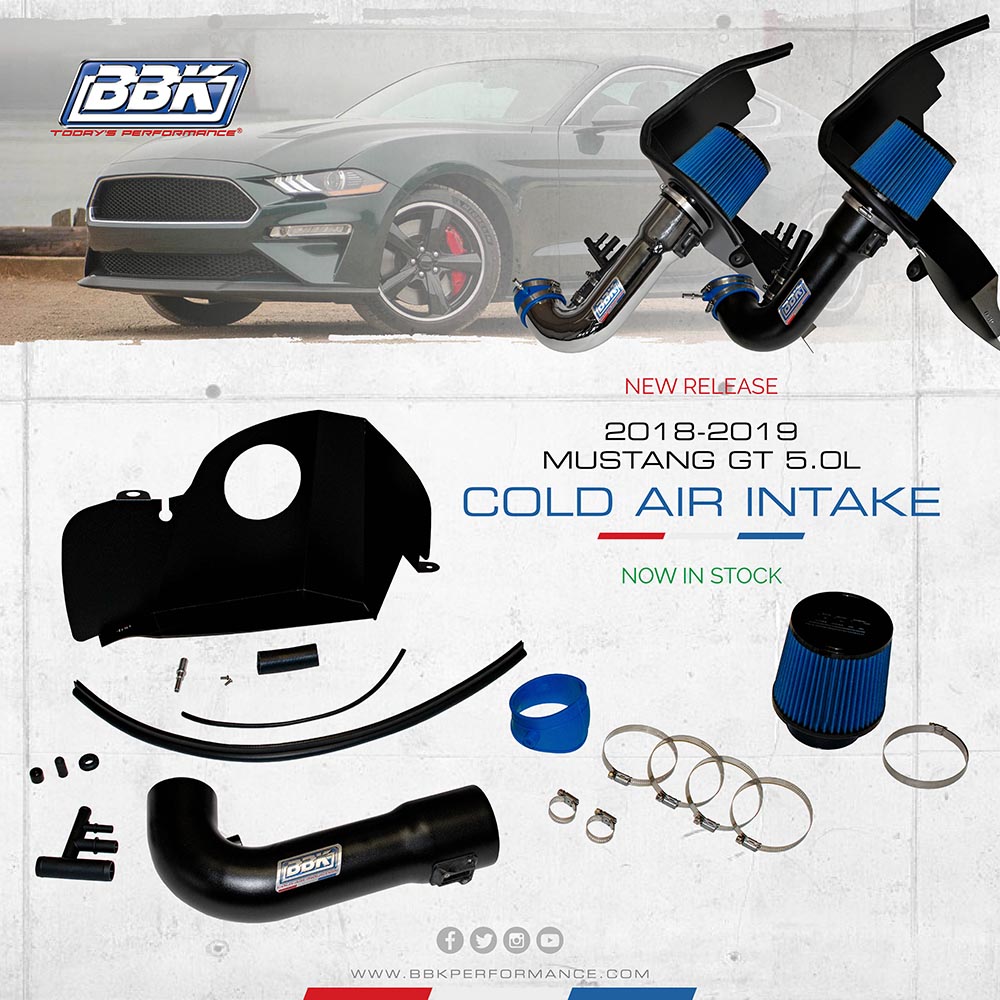 Increase your 2018-2019 Mustang GT's performance with this BBK Performance chrome or black out cold air intake. One of today's favorite performance bolt-ons, BBK cold air intake kits to deliver great looks as well as real world horsepower gains. These cold air intake systems utilize a high flow washable conical cotton element filter. The 2018-2019 Mustang GT has proven to be an amazing performer right off the showroom floor but, like all Mustangs, delivers even better results when you improve airflow to the engine.
Works with Factory Tune
BBK cold air intakes will increase your S550 Mustang's horsepower and torque while improving your throttle response and fuel economy. This cold air intake is designed to work with the factory computer tune.
Top Quality Materials
BBK Performance cold air intake kits are designed with mandrel bent tubing that is chrome plated for maximum performance and great looks. BBK cold air intakes include durable stainless steel clamps and silicone couplers for a long service life. The high flow oiled filter is designed to last a lifetime. All you need to do is clean it when it gets dirty, which can be easily accomplished in minutes with our filter recharge kit (sold separately).
Designed to improve both performance & longevity of your modern day fuel injected vehicle, these popular oil separator kits works simply by removing much of the oil vapor which would normally be sucked into your engine. This performance robbing oil vapor not only hurts overall power levels but also coats your cylinder head combustion chamber with baked on residue that further hurts performance and can also cripple maximum mileage. Each of our custom designed kits features one of our fully computer machined lightweight billet aluminum oil catch cans, along with any bracket, hose and custom fitting as required to make installation a breeze.

Our popular oil separator kits are now available for both the Gen 5 (2010 - 2015 Camaro) & Gen 6 (2016 - 2019 Camaro) models. One of these kits will improve overall performance & longevity by dramatically reducing oil vapor being sucked into your motor resulting in coated combustion chambers and reduced horsepower while even potentially reducing mileage in the process.
Innovative Design
The BBK 2010 - 2015 & 2016 - 2019 Camaro SS 6.2L Oil Separator is CNC machined from solid billet aluminum. It has a knurled tank base for easy removal to drain the captured oil and an O-ring seal to prevent leaks. An efficient multi-stage filter system is used to collect the finest of vapors and drop them into the easily removable bottom while allowing clean air to pass through to the intake.
Easy Installation
This kit includes easy to follow instructions and PCV hoses and connectors for a simple plug and play installation on your Camaro SS. It can be installed in minutes without special tools. Mounting bracket and all required hardware is included.